Welcome to Ora Dental Implant Studio
Welcome to Ora Dental Implant Studio, where your smile can be restored through one of our many implant options. Here you will find a dedicated dental team ready to provide you with exemplary service. Whether you need to replace one tooth, all your teeth or some in between, you will be pleased with the care and service you receive at Ora Dental Implant Studio.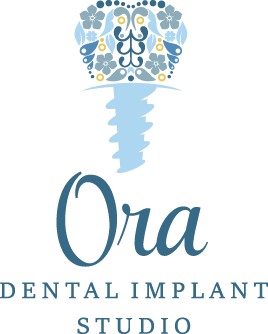 Experience our tranquil, relaxed atmosphere. Dental procedures do not need to produce anxiety. We take every opportunity to ensure that your time with us is comfortable and pleasant. You will appreciate the personal attention and the care with which we perform dental procedures.
Your smile may not be what you would like it to be today, but spend some time with us at Ora Dental Implant Studio, and you will soon have the smile of your dreams. You will enjoy the comfort and easy oral care that dental implants can provide.
Our state-of-the-art technology, along with the highest quality materials and exceptional dental expertise, provide each patient with a rewarding and relaxing dental visit. Our minimally invasive techniques allow faster healing time and an incredibly comfortable experience. We also have same day teeth service. Improve your smile in just one visit.
Oral health is the gateway to overall well-being. When your smile is not at its best, you are not at your best. Missing teeth compromise your oral health and can affect your self-confidence. Restore your smile, oral health and your feeling of self-confidence.
Ora Dental Implant Studio is the place you want to visit for the best oral care for your dental implants. Our highly trained dental professionals are committed to helping you attain the healthiest, most appealing smile possible. If you haven't scheduled your appointment yet, be sure to contact us today.
---
What is it and how a Dental Implant is built
A dental implant is the gold standard for replacing missing teeth. It involves a surgical post that is placed into the jawbone to serve as an artificial tooth root. A prosthetic tooth or teeth, such as a crown, bridge or denture, can be secured on top of this surgically placed implant.
The success of a dental implant relies heavily on a natural process called osseointegration. This refers to the ability of the implant fixture (a titanium post) to fuse to the surrounding jaw bone over time. The healing process after implant surgery requires a variable amount of time to ensure the implant forms a strong bond to the underlying bone and is equipped to provide lifelong support for a replacement tooth or set of teeth.
Once the implant completes osseointegration and heals, an abutment or implant restoration (crown, bridge or denture) can be securely attached above the gum line. Dental implants are considered a permanent way to replace one missing tooth or a full mouth of missing teeth. They resemble natural teeth in appearance, feel and function and carry a remarkable success rate of up to 98%.
---
300

+

Full mouth reconstructions annually
Complete Dental Implants starts just from $1899 
PROCEDURE

Ora Dental Implant Studio

National Average in USD

Surgical Placement of Implant
$1899
$1500-$2200
Stock-Abutment
$0
$500-$700
Crown
$0
$1200-$1500
Complete Dental Implant
$1899
$3200-$4400
Other Procedures Comparison:
Simple Extraction
$99
$149-$199
Surgical Extraction
$285
$299-$399
Simple Bone graft up to 0.5cc per site
$499
$599-$799
Membrane
$299
$349
Custom CAD-CAM Abutment
$699
These fees are for non insurance & cash patients only.
If you have dental insurance are subject to dental insurance fees guidelines
The ORA4X Process
If you're missing multiple teeth, you've probably had to make some substantive lifestyle changes. Diet changes, hidden smiles, loss of confidence and more. The ORA4X Process is the premiere method for replacing missing teeth. Unlike other dental implant methods, the ORA4X Process restores up to an entire arch of teeth, faster and more reliably!
See our special offers and find the ones that best suit your needs
Our Patient Reviews
Ora Dental Implant Studio
5

/ 5.0
Based on 6 reviews
Umakant D.

I will highly recommend Dr. Dalla. I found him to be very pleasant and highly professional. I had implants done and he did it so well that I had no discomfort. He is an excellent dentist specialist.
Lisa O.

I went to Ora last month for a denture implant consultation, soon as I walked through the door I was greeted by the ladies in the front. My consultation went great Dr. Dalla was great, he listened to my concerns and explained what would be the best procedure for my situation. Also worked with my financial situation. I had all my teeth extracted and my dentures placed. Tia was so wonderful she did her best to calm me down and reassure me there was nothing to be nervous about. Before he started I expressed how nervous and scared I was he assured me I was in great hands and I was. The staff there is the best. I have a little discomfort but when I looked in the mirror for the first time a hour ago I was very very happy with my outcome. I still have to go back for the implants then I'll be finished. I want to thank the whole staff at Ora for giving me my confidence back in my smile.
Gary B.

The whole experience went great. From the front office staff to the back office staff. The implants look and feel great. Thanks for everything... I will see you in the new year....
Darnell H.

Nice everyone and everything there is very nice they explain things in a way you can perfectly understand. I will be looking forward to having the things I need fixed
Dennis H.

First visit went very well, the Doctor listened to what I needed/wanted done, and gave me a schedule to complete the work.
Mashoq A.

Everything about this office is amazing from the staffs to the dentist and the dentist take his time to take care of his patients
Latest posts from Our Blog
Do I Need a Sinus Lift for Dental Implants?

Dental implants have become a popular and effective solution for replacing missing teeth. They offer a natural appearance and stability that is often likened to natural teeth. However, in some cases, patients may require additional procedures, such as a sinus lift, to ensure the success of their dental implant placement. Understanding when a sinus lift… more

11 Advantages of Dental Implants for Single Tooth Restorations

Dental implants have revolutionized dentistry by providing a durable and natural-looking solution for single-tooth and full-mouth restorations. When an individual loses a single tooth due to injury, decay, disease or other factors, dental implants offer numerous advantages over traditional alternatives like bridges or dentures. The following are the advantages of dental implants for individuals with… more

Are You a Candidate for Zygomatic Dental Implants?

When it comes to dental implants, many people assume that they are not a viable option for those with significant bone loss in the jaw. However, zygomatic dental implants offer a solution for those who may not be candidates for traditional dental implants. But who exactly is a candidate for zygomatic dental implants? Generally, those… more
Read all posts