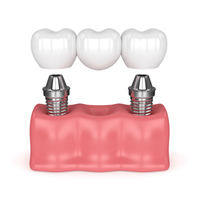 Traditional dental bridges replace missing teeth between two natural teeth. A fixed bridge is usually a better choice than a partial denture in most situations, particularly when only one or two teeth need to be replaced. However, a dental implant bridge is an even better choice for good reason.
The two natural teeth on either side of the space, created by the missing tooth, act as abutment teeth for the traditional bridge. This means they support the bridge. In order to do that, a crown needs to be made for each tooth, and the artificial replacement tooth is attached to the crowns, forming the bridge. The natural teeth must be ground down to accommodate the crown. This means removing tooth structure so the crowns can be placed on the natural teeth. A dental implant bridge does not compromise the integrity of the natural teeth.
Implant Supported Bridge
An implant supported bridge does not involve natural teeth in its construction at all. These types of bridges are used when more than one tooth is missing. A single implant can replace a single missing tooth. When there are more teeth missing, your dentist may advise you to consider a dental implant bridge.
Dental implant bridges are used in the place of traditional bridges, and they are used when the pressure on one implant may be too much. Using more than one implant to support a bridge spreads the pressure exerted when chewing over a broader area. This helps ensure that the implants will be successful and will not loosen over time. Too much pressure on an implant can increase the chance that it will loosen up and ultimately fail.
The dental implant bridge looks more like natural teeth. Since the bone around the implant remains healthy and does not shrink, a more natural look can be maintained. If you are in need of dental bridgework, contact Ora Dental Implant Studio today. You may be a candidate for a dental implant bridge. Why not book an appointment today for an exam and consultation?