IF YOU ARE LOOKING FOR DENTAL IMPLANTS IN ELK GROVE, SACRAMENTO, OR THE SURROUNDING AREAS LOOK NO FURTHER AND CONTACT ORA DENTAL IMPLANT STUDIO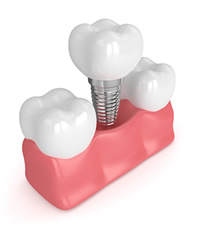 Even one missing tooth can create a variety of problems in an otherwise healthy mouth. Depending on the position the missing tooth, it can also cause a decline in your self-confidence and self-esteem. When a tooth is missing within the visible smile area, the person has a tendency to feel more self-conscious. This can lead to less laughing, smiling and even talking with others out of embarrassment. A single tooth implant can restore the beauty of your smile and return your feelings of confidence.
Depending on the procedure that fits your situation, you could have your smile restored within one visit to our office. Some implant procedures require less time than others to complete. After a thorough examination, your dentist will recommend the best implant treatment for your bone structure.
About the Implant Procedure
An implant is basically an artificial tooth root. It is a screw-like device that is placed in the jawbone. This device is made from titanium, a biocompatible substance. Over time the natural bone fuses to the implant. An abutment is attached to the implant. This is the part of the implant that holds the crown. A crown made of porcelain or zirconium is seated on the abutment. The completed procedure looks and feels like a natural tooth.
Some patients may need to have a bone graft in order to have a successful implant. Others have sturdy, healthy bone, that is dense enough to permit an implant that will not require a more drawn out procedure. A thorough exam with x-rays to analyze the bone density will be needed in order to determine the type of single tooth implant that will work best for you.
There are several considerations that go into the decision of whether or not a patient is a good candidate for the implant procedure. Health issues, bone density and oral health are factors in the decision. Contact Ora Dental Implant Studio, and schedule an appointment for an exam and consultation to find out if you are a good candidate for this procedure.