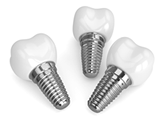 There are so many options available today for tooth replacement. Whether you only have one tooth missing, a few, several or even if all your teeth are gone, you have more than one option for replacing them. "Teeth in a day" is one of the options available. Implant dentistry continues to evolve and improve, and this method of replacing missing teeth is one of the newer techniques available to dental implant patients.
If you meet the requirements for dental implants, you will want to consider the "teeth in a day" option. With this procedure, you do not need to wait weeks before having your smile fully restored with teeth. This implant technology is perfect for people who are in the public eye and do not want to be seen without teeth any longer than necessary.
When you have a full arch of teeth that need to be replaced and you want the convenience and stability that implants provide. "Teeth in a day" is a very good option. You still have the benefits that dental implants provide. However, you now have the additional benefit of being able to walk out of the dental office with a full set of teeth on the same day you came to get your implants.
Same Day Dental Implants!
"Teeth in a day" means just that, Ora Dental Implant Studio offers patients Same Day Dental Implants!  Your implants will be placed, and the dentures will be attached after the procedure is completed. This technique is considerably more cost-effective than having single implants to replace each missing tooth.
Four dental implants will be strategically placed in your jawbone to support a denture. When the implant procedure is completed, the denture is attached. You will have a brand-new smile in just a matter of a few hours.
3D imaging technology is used to precisely place the implants in the correct positions. The image supplies the information needed to determine where nerves, muscles and blood vessels are, so the implant can be carefully placed. This precise placement is needed in order for an implant to be successful.
A temporary restoration is placed on the implants while they heal and fuse to the bone. This procedure can take several months. However, you will have teeth with which to eat and speak until the healing process is completed. At this point, you will receive permanent dentures which will be fixed onto the implants.
Ora Dental Implant Studio provides "teeth in a day" for patients who qualify. Schedule your exam and consultation to find out if you are eligible to have your missing teeth replaced in one day.