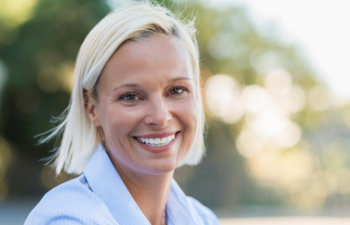 Dental implants have revolutionized dentistry by providing a durable and natural-looking solution for single-tooth and full-mouth restorations. When an individual loses a single tooth due to injury, decay, disease or other factors, dental implants offer numerous advantages over traditional alternatives like bridges or dentures. The following are the advantages of dental implants for individuals with one or more missing teeth.
1. Natural Appearance and Functionality
Dental implants are designed to mimic the appearance and function of natural teeth closely. The crown, which is the visible part of the tooth, is custom-made to match the color, shape, and size of the adjacent teeth, creating a seamless and natural-looking smile.
2. Preservation of Adjacent Teeth
Unlike traditional bridges, which require the grinding down of adjacent teeth to support the restoration, dental implants stand independently. This preservation of neighboring teeth is a crucial advantage as it maintains the integrity and health of these teeth.
3. Long-Term Durability
Dental implants are highly durable and can last a lifetime with proper care and maintenance. They are made of biocompatible materials like titanium, which fuse with the jawbone through a process called osseointegration, providing a stable and long-lasting foundation.
4. Improved Oral Health
Dental implants do not compromise the health of surrounding teeth, unlike bridges that may require the removal of healthy tooth structure. By preserving the natural tooth structure and supporting bone, implants contribute to better long-term oral health.
5. Natural Chewing and Speech
Dental implants restore normal chewing function, allowing individuals to eat a wide range of foods without discomfort or dietary restrictions. Additionally, implants do not interfere with speech, ensuring clear and natural communication.
6. Stability and Comfort
Implants are firmly anchored in the jawbone, providing stability and comfort that surpasses removable options like dentures. Patients can enjoy a secure and comfortable fit, eliminating the need for adhesives or adjustments.
7. Prevention of Bone Loss
After tooth loss, the jawbone can deteriorate over time due to lack of stimulation. Dental implants stimulate the bone like natural tooth roots, preventing bone loss and maintaining the facial structure.
8. Easy Maintenance
Caring for dental implants is straightforward and similar to caring for natural teeth. Regular brushing, flossing, and dental check-ups are all that are needed to keep the implant and surrounding tissues healthy.
9. High Success Rate
Dental implant procedures have a high success rate, typically exceeding 95%. With proper planning and aftercare, the likelihood of complications is minimal.
10. Enhanced Self-Confidence
Restoring a missing tooth with a dental implant can boost self-esteem and confidence. Patients can smile, speak, and eat confidently, knowing their replacement tooth looks and functions naturally.
11. Cost-Effective in the Long Run
While dental implants may have a higher initial cost compared to some alternatives, their long-term durability and minimal maintenance requirements make them a cost-effective choice over time. Avoiding future dental issues related to tooth loss can also save on potential additional expenses.
Dental implants offer numerous advantages for single tooth restorations, ranging from their natural appearance and function to their long-term durability and positive impact on oral health. These benefits make dental implants an excellent choice for individuals looking to replace a single missing tooth and enjoy the benefits of a restored and confident smile. If you are considering a single tooth restoration, consult with Dr. Dalla and his team at Ora Dental Implant Studio – call our office in Elk Grove, CA, to schedule a dental implant consultation.
Posted on behalf of Ora Dental Implant Studio
2733 Elk Grove Blvd, Suite 170
Elk Grove, CA 95758
Phone: (916) 546-7911