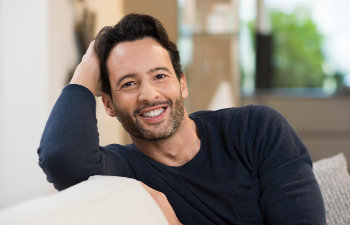 Dental implants are the gold standard in tooth restorations and offer many benefits over bridges or traditional dentures. When it comes to full mouth restorations, dental implants can create a more natural-appearing and functional smile with many advantages for the patient. There are many different options when it comes to replacing all your teeth using dental implants. Here are five popular ways to restore your complete smile using dental implants.
1. Implant-Retained Dentures
One of the most cost-effective options for full mouth restorations with dental implants is the implant-retained denture. This restorative option uses the fewest dental implants and often can use "mini" implants. The implants connect to traditional dentures to hold (retain) them in place, but the dentures are still supported by the gums. Implant-retained dentures are removed each night to be cleaned and are not recommended to wear while sleeping.
2. Snap-On Dentures
Another popular and cost-effective option is the Snap-On dentures, also called overdentures. This method uses traditional dentures that "snap" onto dental implants. Patients have the benefit of secure dentures that will not slip, rub, or fall out when they are eating or talking. The dentures are supported by the implants placed into the jawbone, not by the gum tissue. The number of implants depends on the type of overdenture used, which can be as little as two implants per arch. Like traditional dentures, these prosthetics do need to be removed daily for cleaning.
3. Implant-Supported Dentures
Implant-supported dentures are similar to Snap-On or overdentures but with more implants for better support. The dentures are connected to the dental implants with 6-8 implants used per arch. This allows for a stronger bite, but it can cost significantly more than the first two options due to the number of dental implants needed.
4. All-on-4 Dental Implants
One of the most innovative options in full mouth restorations is All-on-4 dental implants. This method of full mouth restoration uses a hybrid denture that is permanently locked in place with dental implants. Due to the technique used, only four implants are needed for each arch which helps reduce costs. The hybrid denture does not cover the roof of the mouth, resulting in teeth that feel and look natural. All-on-4 dental implants can be performed in one day at Ora Dental Implant Studio, also referred to as "teeth-in-a-day."
5. All-on-6 Dental Implants
All-on-6 dental implants are identical to All-on-4 except they use six implants for each arch. This can be a better option for patients with less bone mass as it distributes the stress on the jaw over six implants versus four.
All five of these options can give you a beautiful, complete smile and much better function than traditional dentures. Plus, dental implants help to retain your jaw structure due to stimulation of the bone. To learn more about all the dental implant options for tooth and smile restorations, contact our team at Ora Dental Implant Studio. Call our office in Elk Grove, CA, to schedule a consultation.
Posted on behalf of Ora Dental Implant Studio
2733 Elk Grove Blvd, Suite 170
Elk Grove, CA 95758
Phone: (916) 546-7911