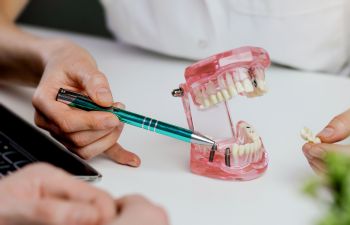 Replacing missing teeth with dental implants may seem like relatively new technology; however, it has been around for a while now. In fact, the first modern dental implant was placed in 1965 by Dr. Per-Ingvar Branemark. He was a Swedish physician and research professor who stumbled upon the process by which dental implants became possible. The implant was successful and lasted forty years. But even before that, there were attempts to replace missing teeth using implant-like methods.
The Ancients
Discoveries of the ancient world have revealed many marvels, including ways missing teeth were replaced for the living and the dead.
4,000 years ago – Bamboo pegs were used by the Chinese to replace missing teeth.
3,000 years ago – An Egyptian king's missing upper tooth was replaced by a copper peg. It did not help in his lifetime though, as it was placed after he died.
2,300 years ago – Apparently a false tooth made from iron was inserted in a gap of an individual after death. This was discovered in a Celtic grave in France.
2,000 years ago – the practice of using animal teeth or teeth from slaves or poor people was not unheard of in civilizations around the world.
Whether dead or alive, the value of replacing teeth was important for many, especially high-ranking individuals.
Working with Metal Alloys
In the 18th and 19th centuries, experiments with gold and other alloys were conducted with the hopes of supporting replacement teeth. Doctors and dentists tried different combinations, but the body rejected these metals. A compatible alloy was not discovered until quite by accident in the 20th century.
Orthopedic screws were used in the 1930s and 1940s. Doctors used a special spiral post to insert into the jawbone. The post was designed to encourage bone to grow around it. Still, the procedure was not completely successful until the discovery of osseointegration made by Dr. Branemark.
Rabbits and Implants
Dr. Branemark was studying the blood flow in rabbits when he discovered that bone of the rabbit fused with the titanium chambers he was using in his research. This was a breakthrough. The titanium was not rejected but rather the bone fused with it and therefore could be used to anchor and stabilize a replacement tooth.
Though he made the discovery of osseointegration in 1952, it was not until 1965 that he was prepared to try the implant procedure on a human subject. He studied the process for over a decade before placing the first successful two-stage implant. After six months, the patient's bone had sufficiently fused to the titanium post and the first modern dental implant was born.
Today's implants are becoming the gold standard for replacing missing teeth. They are more secure and have a much better aesthetic than traditional forms of replacement. Ora Dental Implant Studio provides you with the highest quality of dental implant services. Call us today for a consultation.
Posted on behalf of Ora Dental Implant Studio
2733 Elk Grove Blvd, Suite 170
Elk Grove, CA 95758
Phone: (916) 546-7911