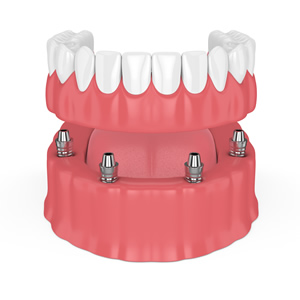 You don't have to do much research to know that there is more than one way to replace a full arch of missing teeth. While traditional dentures were once the only option to regain a natural-looking smile, modern dentistry now offers some more advanced and patient-preferred solutions in restorative dentistry. With the help of dental implants, patients can find unrivaled stability for their upper and/or lower denture. Implant dentures offer numerous benefits, and it serves as the basis for one of the latest and most innovative methods in teeth replacement: All-on-4 dental implants.
What is All-on-4?
All-on-4 is a unique dental implant supported tooth replacement system that uses only four dental implants to secure a denture. The All-on-4 denture is perfect for patients who have lost bone density in their jaw, as the implants are placed at the front of the jaw to maximize the density of the bone and effectively support the denture. Typically, the implants are also placed at an angle, which further reduces the amount of bone structure needed to support the implant. The All-on-4 system allows patients to greatly expedite the teeth replacement process and lower their recovery time.
Benefits of All-on-4
All-on-4 dentures may not be right for every patient. However, if you are considered a candidate, you may reap some of the following benefits:
93 to 98% successful implantation rates
Eliminate or reduce need for advanced preparatory procedures (bone and soft tissue grafts)
Quicker in terms of implantation, healing and permanent denture attachment
More natural look, feel and function compared to traditional removable dentures
Possible reduced cost due to less chair time
Determine Your Candidacy
At Ora Dental Implant Studio, we offer a full menu of options in restorative dentistry, including the latest All-on-4 system. To find out if you can benefit from this advanced solution in full teeth replacement, schedule your free consult with us today!
Posted on behalf of Ora Dental Implant Studio
2733 Elk Grove Blvd, Suite 170
Elk Grove, CA 95758
Phone: (916) 546-7911