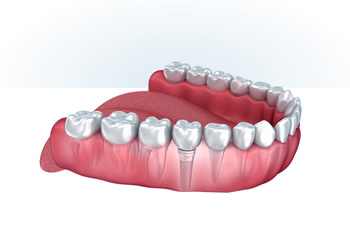 As much as we'd like them to, permanent teeth can't grow back after they are removed or fall out. Nonetheless, when it is time to replace a natural tooth, it's important to get the closest replica possible. Without question, the answer is dental implants. They are known for their ability to mimic real teeth in function, appearance and feel. Plus, they carry an exemplary success rate. But, are dental implants for everyone? There are certain criteria that you must meet in order to be a good candidate for dental implants – here's a closer look.
Unlike traditional dentures, bridges or partials, dental implants involve a surgical procedure to insert a titanium post into your jaw bone. This serves as your artificial tooth root and it's the reason why your implants can provide unrivaled stability for a lifetime. However, in order for your implant to be successful, it must undergo an important healing process. Therefore, any patient that either doesn't have adequate bone structure to surround the implant or is at risk for poor healing after implant surgery may not be an ideal candidate for a dental implant – or it may mean it is just not the right timing.
An Ideal Candidate
If you fit the following criteria, you are likely an excellent candidate for implant dentistry:
Good overall health
Healthy gums
Commitment to follow diligent oral hygiene
Sufficient jawbone height and density
Non-smoker
Patience for the dental implants process
Don't meet the above requirements? Don't count yourself out of implants forever. For example, you can undergo bone grafting to build up your jawbone if you've been disqualified due to poor bone density. Or you can choose to kick your smoking habit so that you can take advantage of implant dentistry.
A Poor Candidate
If any of the below situations apply to you, you may need to wait or rethink your treatment option within restorative dentistry:
Uncontrolled diabetes or autoimmune disorders that prevent you from healing
Poor overall health
Smoker who is unwilling to quit for 6 months or more
Insufficient bone tissue and cannot undergo bone grafting
The only way to know for sure whether or not you qualify for dental implants is to visit a specialist, such as Dr. Dalla of Ora Dental Implants Studio. Your evaluation will include a thorough analysis of your medical history as well as advanced x-rays of your entire oral structures. You can trust that we will do everything we can to help you receive dental implants and rebuild your smile the way you deserve.
Posted on behalf of Ora Dental Implant Studio
2733 Elk Grove Blvd, Suite 170
Elk Grove, CA 95758
Phone: (916) 546-7911