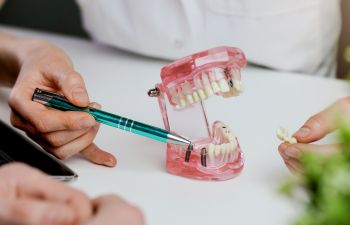 The bone density in the face can deteriorate for many reasons. As we age, the amount of bone that supports the teeth can also reduce naturally. You may still qualify for dental implants with additional treatments to stimulate growth or graft bone in affected areas.
Dental Implant Sites
If you have had a dental implant consultation in the past, you may have received bad news about your viability as a candidate. This is usually due the amount of bone growth and density at the implant site.
In many cases, a specialist can perform procedures to stimulate bone growth in conjunction with implant placement. Alternatively, graft bone from areas of your own body is an option for supporting dental implants. The results of this procedure can take months, but the wait is worth it when you consider the benefits.
Minor bone grafting may not delay your dental implant placement. Your dentist will make a determination based on the health of existing bone. At Ora Dental Implant Studio, we are committed to using the most effective and long-lasting approach for our patients.
Bone Defect Repair
There are often bone defects in the mouth that patients cannot see with the naked eye. The team at Ora Dental Implant Studio will use state-of-the-art technology to imagine your perfect smile. We can then determine how to best implement grafting to repair or support bone.
Bone grafting can stimulate further bone growth or change the shape of the arches in your mouth. The procedure is relatively quick but recovery may take a few months. One you are fully healed, Ora Dental Implant Studio can complete the procedure and restore the function and beauty of your smile.
Implant Consultation, California
Your suitability for dental implants is not set in stone. New technologies in this area of dentistry are constantly evolving. Whether this is your first time exploring dental implants or you want a second opinion, we can offer solutions in California.
Reach out to the offices of Ora Dental Implant Studio today for a consultation. Our professional team in Elk Grove can provide answers to all your questions.
Posted on behalf of Ora Dental Implant Studio
2733 Elk Grove Blvd, Suite 170
Elk Grove, CA 95758
Phone: (916) 546-7911