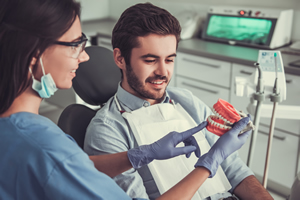 Dental implants have become the most top ranked method of replacing damaged or lost teeth. They carry a remarkable success rate of over 95% when they are properly placed and cared for. However, while dental implants are designed to be a stable and permanent solution for missing teeth, they are not invincible.
Dental implant failure is rare. However, when it does occur, it typically is the result of improper implant placement, poor quality materials or infection. Implant failure does not occur from the body rejecting the implant, as the only surgically placed component is a biocompatible titanium post. It is imperative that you choose skilled and experienced implant dentist for this type of procedure, as it can be the difference in implant success or implant failure.
Here are the most common causes of dental implant failure:
Failed osseointegration – When the implant never gains full stability and instead becomes loose or fell out, failed osseointegration is suspected. This means that the implant never fused to the surrounding jaw bone during the immediate months of healing after surgery. Failed osseointegration can be due to improper positioning, overloading, insufficient bone density, damage to surrounding tissue or a sudden impact/external trauma.
Peri–implantitis – This is a type of infection that develops around the implant and within the gums. Implant failure of this kind is likely due to poor dental hygiene after dental implant surgery.
Nerve and tissue damage – Chronic pain, tingling or numbness in the gums, tongue, lips or lower face can signal nerve damage from an implant being placed too close to a nerve. Outdated imaging methods and an inexperienced dentist can result in incorrect implant placement and subsequent nerve damage.
Know the Signs of Implant Infection
While there are various reasons why an implant can fail, the symptoms of implant failure are the same. Healthline lists the following warning signs of early or late-stage dental implant failure:
difficulty chewing.
gum inflammation.
gum recession.
increased swelling.
loosening of an implant or a replaced tooth.
severe pain or discomfort.
If you experience any of the above symptoms, it is important to get in contact with your implant dentist as soon as possible. Neglecting an infection can not only sabotage your implant investment, but it can also put your mouth and body at serious risk.
Follow Post-Op Care Instructions
At Ora Dental Implant Studio, we give patients specific post-operative instructions on how to expedite healing and care for a newly placed dental implants. After the initial healing period of your implants, avoiding implant failure should involve practicing good oral hygiene by brushing and flossing, using an alcohol-free antibacterial mouthwash, avoiding hard candy and not smoking. To schedule your consult with an experienced and talented implant dentist, please call our Elk Grove office today.
Posted on behalf of Ora Dental Implant Studio
2733 Elk Grove Blvd, Suite 170
Elk Grove, CA 95758
Phone: (916) 546-7911