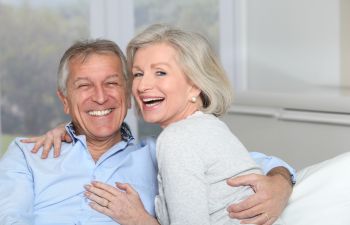 Wearing traditional dentures for years will have an impact on your bone structure and may make it necessary for additional preparation in order to place dental implants. However, if your general health is good and you do not have any major concerns with your oral health, you are most likely a good candidate for dental implants.
Dental implants can be costly, but over time, the investment is worth the cost. If you have been waiting for years to get implant-supported dentures, there is good news for you.
Why Dental Implant-Supported Dentures Are Advantageous
If you have been wearing traditional dentures for years, you may not be convinced that it is worth the time and cost to invest in implant-supported dentures. If your traditional dentures are working for you, why change now? There are several advantages to implant-supported dentures.
Implant-supported dentures will not dislodge when you are eating, speaking or laughing. With time, traditional dentures can become loose and you may need to use adhesive powders or pastes to keep them in place. This is not an issue with implant-supported dentures. Dentures are secured onto the implants, which locks them in place so you can eat anything you choose without worries about your dentures coming out or moving out of place.
Implant-supported dentures look more like your natural teeth. Traditional dentures can have an artificial look. Over time, they can look even more like false teeth as they become dingy and stained. With proper care, your implant-supported dentures will always look like your natural teeth and provide you with years of service.
Unlike implant-supported dentures, as your bone structure changes, your traditional dentures will need adjusting from time to time. With implants, the bone is constantly being stimulated so there will be less changing of your bone structure and therefore, no adjustments will be necessary.
Changing from Traditional to Implant-Supported Dentures
The most important part of getting implant-supported dentures is the integration of your natural bone with the implants. If you have been wearing your traditional dentures for years, your bone structure has changed and you may need a bone grafting procedure in order to help the implants stay securely in place.
This procedure builds up the missing bone and helps reestablish a secure bite. Your dentist will determine how many implants are needed for the best results. Some patients will do fine with only four, while others will benefit from having six.
Getting your bone structure examined and assessed for dental implants is the first step to changing from traditional dentures to the security of implant-supported dentures. At Ora Dental Implant Studio, our specialty is placing dental implants. Contact us today to schedule a consultation appointment with one of our dentists.
Posted on behalf of Ora Dental Implant Studio
2733 Elk Grove Blvd, Suite 170
Elk Grove, CA 95758
Phone: (916) 546-7911