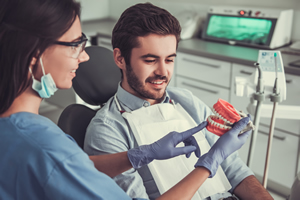 Are you uncomfortable with the appearance of your teeth? If you have recently had a tooth extraction, you may need dental appliances to keep the rest of your teeth in place. Over time, remaining teeth can shift and cause numerous problems for your oral health. Here are three common issues that may signal you need dental implants for a healthy and happy smile.
Missing or Damaged Teeth
Cracks or fractures on your teeth may only be fixed through extraction. Missing or damaged teeth can lead to numerous health issues with your teeth and gums. Shifting teeth can lead to gum irritation and disease and cause serious health problems in the future. Dental implants help to safely prevent infections and other issues related to missing and damaged teeth.
Denture Struggles
Dentures can be hard to keep secured in place and may slip when talking or chewing. Bone loss after tooth extraction can lead to a poor fit. Applying adhesives to dentures can be a messy struggle and leave a terrible taste in your mouth. Since dental implants are secured by titanium screws into the bone, you can feel more confident in social situations. The implants can also prevent future bone loss to improve the aesthetics of your smile.
Difficulty with Chewing
If you have difficulty with chewing, dental implants can be an effective solution to improve your bite. These devices create a more stable area for bone growth so the rest of your teeth remain strong. With this stability, the implants are able to function just like your normal teeth. During your recovery after a dental implant procedure, you may need to stick to soft foods while your mouth heals. After that, you may eat whatever you want without any issues.
Invest in Your Smile with State-of-the-Art Dental Implants
Investing in your smile is one of the best decisions you can make for your oral health. Ora Dental Implant Studio specializes in several types of dental implants to help you boost your oral health and restore your smile. State-of the-art technology and earth-friendly materials are used to deliver the highest caliber patient care. Call to request a free consultation today.
Posted on behalf of Ora Dental Implant Studio
2733 Elk Grove Blvd, Suite 170
Elk Grove, CA 95758
Phone: (916) 546-7911