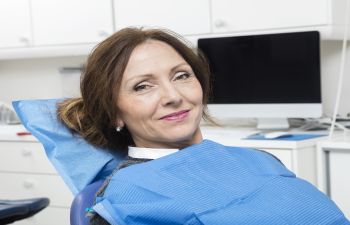 One of the major concerns that our patients share is the impact on speech after treatment. When you have damaged or missing teeth, your mouth adapts to reform letters and words. Once those missing teeth are replaced, you will need to relearn speech patterns.
Some patients can adapt instantly, while others spend up to a month to lose temporary speech impediments. The important thing to remember is that your implants are permanent and will provide a range of benefits, whereas any issues with speaking are fleeting.
Removable Dentures
Removable dentures can cause permanent speech challenges. Taking a prosthesis out every night can result in a period of adjustment in the morning. You also have to consider that the gums and mouth will change in shape over time, which impacts how you speak.
A permanent prosthesis, such as dental implants, help the mouth maintain its natural shape. Once you conquer the changes in speech patterns, the challenge is over. You can confidently engage with friends, family and colleagues without fear of slurring your words.
Human Adaptability
As a species, we are designed to deal with adaptability. You may initially feel like your speech is permanently damaged. However, most people quickly recognize any negative changes and make corrections. Speaking slowly can help you adjust to your new dental implants and converse without concern.
Your dental implants are designed to mimic natural teeth. If you have suffered from tooth loss over a long period, the mouth will adapt to new speech patterns. The same principle applies to replacing a damaged or missing tooth.
Aesthetic Appeal
Another thing to consider is the importance of aesthetics versus speech. Many of your friends and family will focus more on your new smile than how you sound when speaking. The former is potentially permanent, whereas the latter will adjust within a relatively short period of time.
Any time you are concerned about your speech, look in the mirror and smile. Your new teeth could open doors to personal and professional opportunities. Call Ora Dental Implant Studio if you have any further questions about recovery challenges after treatment.
Posted on behalf of Ora Dental Implant Studio
2733 Elk Grove Blvd, Suite 170
Elk Grove, CA 95758
Phone: (916) 546-7911