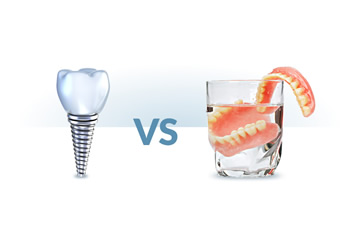 While traditional dentures have come a long way in terms of appearance and design, many people still suffer the consequences of ill-fitting replacement teeth. Traditional dentures rest on the gum line and are anchored in place by special adhesive cream. This can pose a significant risk for denture slippage and discomfort, especially during eating, laughing or speaking. These are aspects of everyday life, so it is understandable that some patients complain of a lower quality of life when their dentures refuse to stay in place. Fortunately, there is a solution to a more confident smile, even when you've lost a full arch of teeth – dental implants!
Dental implants are the gold standard in restorative dentistry. No other method can rival the way dental implants look, feel and function in terms of replicating natural teeth. The good news is that dental implants can be used to replace a single tooth as well as a full mouth of missing teeth. In fact, just a few dental implants can be used to anchor your denture and solve your denture woes.
A dental implant is placed strategically into the jawbone to act as an artificial tooth root. Once the implant has healed to the surrounding bone, it is ready to attach to your denture and hold your prosthetic teeth firmly in place. You'll gain a new smile that not only feels and functions like real teeth, but is able to be cared for in the same way too. When dental implants are used to anchor a full or partial denture, it is called an implant-supported denture.
Choosing to stabilize your dentures with dental implants means you can gain the following remarkable benefits:
Dietary Freedom – your implant dentures can handle hard-to-chew foods that traditional dentures cannot
Smile Confidence – no more covering up your mouth when laughing hard, your implant dentures will stay firmly in place despite your actions
Easy Maintenance – say goodbye to messy denture creams and special cleaning regimes because your implant dentures require the same upkeep as natural teeth.
Bone Preservation – when dental implants are there to stimulate your jawbone, you won't lose bone over time and you can maintain your facial shape.
Are you frustrated with ill-fitting dentures or the need for frequent denture relines? Consider solving your denture woes with the placement of dental implants. You'll gain a lifetime of advantages and a better quality of life! Call Ora Dental Implant Studio today to learn more.
Posted on behalf of Ora Dental Implant Studio
2733 Elk Grove Blvd, Suite 170
Elk Grove, CA 95758
Phone: (916) 546-7911