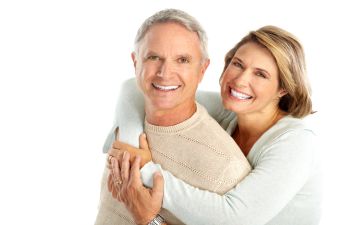 Most patients assume that if they have advanced bone loss in the upper jaw, they cannot get dental implants without a bone grafting procedure first. In the past, this was true. However, in the late 1990's, zygomatic implants made their breakthrough in implant dentistry. While not all dentists and oral surgeons are qualified to place zygomatic implants, this restorative dentistry technology can be a game changer for countless patients who want to take advantage of implant dentistry but who are unable or unwilling to undergo bone grafting.
Why Zygomatic Implants are Unique?
Zygomatic dental implants represent a highly-specialized type of restorative dental implant that was specifically designed to help patients who did not have enough upper jaw structure to support traditional implants. When bone loss has occurred in the upper jaw, a standard dental implant is less likely to succeed. In such cases, bone grafting or a sinus lift may be suggested for those patients. This can significantly increase the recovery and expense of the teeth replacement process.
The Answer to Your Bone Loss
Zygomatic implants solve this problem. They involve longer and angled implant posts that are surgically inserted into both the upper jaw and the cheekbone (zygoma). In doing so, the implant can gain adequate support and stabilization and the patient doesn't have to undergo bone grafting. Zygoma implants have been known to reduce the overall time to permanent teeth by as much as six months compared to those who had to get bone grafting or sinus augmentation.
If you have little or no maxillary bone (area of bone above your upper teeth), zygomatic implants can still be an option. Don't worry, zygomatic implants carry the same success and patient satisfaction rate as traditional implants. With proper care and regularly scheduled visits to see your implant dentist, zygomatic dental implants can last a lifetime!
An Experienced Zygomatic Implant Dentist in Sacramento
At Ora Dental Implant Studio, we are proudly equipped to offer zygomatic dental implants. Not only do we have a team of highly skilled specialists, but our office also uses the latest in advanced 3D scanning for computer-guided planning and precise implant placement. To learn more about whether zygomatic implants are right for you, call our Sacramento office today.
Posted on behalf of Ora Dental Implant Studio
2733 Elk Grove Blvd, Suite 170
Elk Grove, CA 95758
Phone: (916) 546-7911