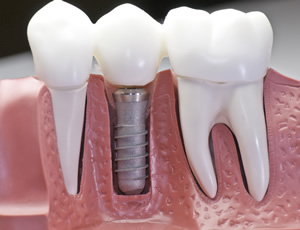 When your dentist examines your mouth for dental implants and recommends bone grafting, your first impulse may be extreme anxiety. The mind can conjure any number of images about what the procedure will entail, most of them exaggerated and not very accurate. In truth, dental bone grafting has become a standard procedure. Depending on the individual circumstances, the procedure is usually performed in the office under local anesthesia. Occasionally, conscious sedation is used if a patient has high anxiety.
Harvesting Bone
Bone grafts can come from a number of sources. Ideally, the bone used in the procedure will be from the patient. When bone from your own body is used for the grafting process, there is less risk of your body rejecting the graft or having an adverse reaction to it. This is considered the gold standard in bone grafting.
The amount of bone used for dental implants is typically small. It can be harvested from your hip, your jaw or the lower part of your knee. When it is not possible to take the bone from the patient's body, other sources can be used.
Other Bone Grafting Materials
Sources other than the patient used for bone grafting include using a tissue bank as well as organic and inorganic materials.
Allograft – This type of bone graft uses sterile bone material from another living donor or a cadaver. This type of bone is processed to minimize the risk of infection.
Xenograft – This type of bone graft uses bone harvested from another type of animal, typically bovine.
Alloplast – This procedure uses inorganic material for the procedure. It may be synthetic or some type of inert material.
Bone Regeneration
When a tooth is missing, the bone in that area does not receive the stimulation needed to continue to grow and remain healthy. A bone graft provides scaffolding for the body to grow new bone cells. The implant helps maintain bone growth due to the stimulation provided by chewing and biting. The process of rebuilding bone can take months; however, the end result with your new dental implant is well worth the wait.
Optimal oral health includes maintaining a healthy amount of bone tissue around your teeth. Dental implants can aid in this endeavor. When a bone graft is required, it can help ensure a successful implant.
The dental team at Ora Dental Implant Studio has the experience and skill to restore your smile using one of our many implant options. Contact us today to schedule a consultation and examination and discover how we can help improve your oral health and your smile.
Posted on behalf of Ora Dental Implant Studio
2733 Elk Grove Blvd, Suite 170
Elk Grove, CA 95758
Phone: (916) 546-7911