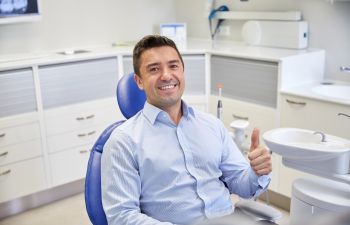 Losing a molar means you lose precious chewing surface. The more molars you lose, the less able you are to chew your food sufficiently. This can affect your digestion and the amount of nutrients your body is able to absorb from the food you eat. Replacing the missing teeth can be accomplished a few different ways, depending on the circumstances and the position of the space(s) left.
A partial denture is one of the most common methods of replacing teeth when there are not two abutment teeth to place a bridge. Otherwise, a dental bridge is often the preferred method of replacement when the circumstances are right. A dental implant can also be used to support a bridge when there is only one abutment tooth available.
Dental Bridges
Under ideal circumstances, a gap caused by missing teeth that has a tooth on either side of it can be filled with a dental bridge. These two teeth are called abutment teeth. They are used to support the dental bridge, which is comprised of pontics – the artificial replacement teeth – and the crowns. The pontics are attached to the crowns. The crowns fit over the visible part of the abutment teeth to hold the bridge in place.
When molars are missing, often the space created only has one tooth available on which to hang a bridge. Although it would be possible to hang a cantilever bridge off the one available tooth, this is not advisable due to the fact that if it should break or come loose, there is a possibility that it could be swallowed or aspirated. However, in these situations, a dental implant could be used as the second abutment tooth on which to hang the bridge.
Implant Supported Bridges
These types of dental bridges are considered the most stable and strongest bridges available. The implant supported bridge uses one implant for every missing tooth, or if that is not possible, the implant will support the pontics suspended between the natural tooth or two implant supported crowns.
While this method of bridging gaps caused by missing teeth can take a number of months to complete, the investment is well worth the time and cost. When a bridge is constructed using dental implants, it is considered a permanent solution. Traditional dental bridges may need to be replaced every five to fifteen years.
Missing teeth should be replaced as soon as possible to avoid the risk of creating other dental problems. At Ora Dental Implant Studio, we create beautiful, natural-looking replacements for missing teeth. Call today to schedule an appointment with one of our professionals for a consultation. Discover if an implant supported bridge is right for your smile.
Posted on behalf of Ora Dental Implant Studio
2733 Elk Grove Blvd, Suite 170
Elk Grove, CA 95758
Phone: (916) 546-7911