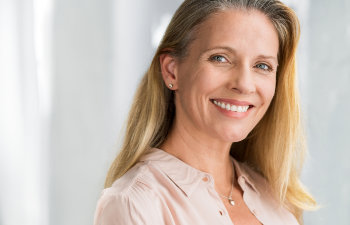 Are you using or considering dentures? If so, you are not alone. Millions of people across the world experience the medical and cosmetic concerns of losing their teeth. While dentures may seem like an affordable solution, they have many additional costs that can add up quickly and come with health risks you are not aware of. In the long run, dental implants may be a more cost-effective option for tooth replacement.
The Hidden Costs of Dentures
While dental implants may seem expensive upfront, they are often less expensive in the long run. Dentures have many additional costs, such as ongoing adjustments, replacements and adhesives. There is anxiety that can come from fear of dentures coming loose at social functions or work. One of the more serious concerns is jawbone loss. When you lose teeth, your jawbone begins to deteriorate, which can lead to a sunken appearance and difficulty eating and speaking. Dental implants prevent jawbone loss by providing the necessary stimulation for the bone to regenerate.
The Undeniable Benefits of Dental Implants
Dental implants are a popular alternative to dentures, and for good reason, but it is understandable if you have concerns about the upfront costs. Its important to remember that implants can last a lifetime, unlike dentures which will need to be replaced. Implants are surgically inserted into the jawbone to replace the missing tooth root. Once the implant has fused with the bone, a crown is placed on top of it. Since the implant is placed directly into the jawbone, it stimulates the bone to maintain its density, eliminating the concern over significant jawbone deterioration.
Receiving the Best Dental Implants for You
The reason for the numerous styles of implants is because there is no one solution that is right for everyone. Your dental team at Ora Dental Implant Studio uses guideline-based recommendations and a patient-centered approach. The dental team will create a customized treatment plan that fits your needs and budget.
Ora Dental Implant Studio offers the highest quality care to help you achieve a healthy, confident smile. Don't let the fear of upfront costs hold you back from a long-term, cost-effective solution. Choose dental implants for a permanent and beautiful smile. It is time to discuss how dental implants can work for you. Contact our office today to schedule a consultation.
Posted on behalf of Ora Dental Implant Studio
2733 Elk Grove Blvd, Suite 170
Elk Grove, CA 95758
Phone: (916) 546-7911