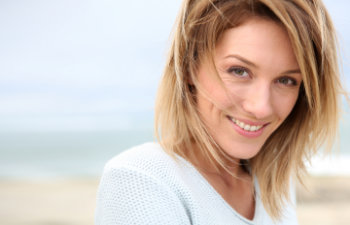 If you have lost several teeth or more, you may have heard about "teeth-in-a-day" and wondered if this procedure is really possible. In the past, dental implants both could require weeks or months to be completed, leaving the patient without teeth. There are options for completing a smile restoration in just one day if a dental center has the latest dental implant technology. At Ora Dental Implant Studio, we offer true "teeth-in-a-day" procedures with our All-on-4 dental implants.
Steps to Replacing Teeth with All-on-4
When replacing a full arch of teeth with dental implants, there are multiple steps that need to be completed. First, patients must be evaluated and approved for dental implants. There must be enough healthy bone to support the dental implants for the procedure to be successful. With All-on-4 dental implants, less bone is needed than in other procedures due to the limited implants needed and how the implants are inserted. Most people can be approved for All-on-4 dental implants.
Secondly, any other teeth remaining must be removed before the implant procedure can be completed. A comprehensive plan should be completed to determine the best places to insert dental implants to ensure success. 3D imaging and other technology are needed to create a detailed procedure outline before beginning the All-on-4 dental implant procedure.
Once the existing teeth are removed, dental implants can be placed. Dental implants look like screws, which does hold them in place temporarily, but for permanent adhesion, osteointegration must occur. This is when the bone fuses with the implant, keeping it secure and stable for years to come. This can take a few months to occur, even with the "teeth-in-a-day" procedure.
How Teeth-in-a-Day Works
Many people who need a full arch replacement do not want to live without teeth while their dental implants heal and fuse to the jawbone. Teeth-in-a-day or All-on-4 dental implants allow patients to have the initial procedure completed in one day, but that does not mean they only have one appointment. The evaluation and imaging to plan the procedure are completed beforehand and then the All-on-4 implant surgery is scheduled.
Teeth-in-a-day means that any teeth that are left can be removed, and the implants can be placed on the same day. A temporary arch or arches will be attached to the implants, creating a new smile the same day. This is wonderful for our patients that have lifestyles or careers where waiting for new teeth is not ideal. The temporary prosthesis stays in place for a few months, allowing for functional eating and wonderful aesthetics. Once the implants are healed in a few months, the permanent arch or arches are attached to the implants.
Not everyone is a good candidate for teeth-in-a-day, but they are possible with the right dentist and advanced implant technology. If you want to explore replacing your missing or diseased teeth with dental implants, contact us at Ora Dental Implant Studio. Call our office in Elk Grove, CA to schedule your appointment for a dental implant evaluation.4
Posted on behalf of Ora Dental Implant Studio
2733 Elk Grove Blvd, Suite 170
Elk Grove, CA 95758
Phone: (916) 546-7911