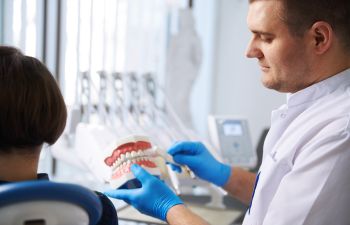 Dental Implants are becoming the method of choice for replacing missing teeth. They are especially helpful when only one tooth needs replacement. For those who are missing several teeth and need dentures, implant supported dentures provide more stability and security than traditional dentures. Implants also make it possible to have a dental bridge when it otherwise may not be advisable.
Restoring your smile with dental implants can make a huge difference in your appearance and self-confidence. Dental implants are an important investment in your oral health and maintaining them will ensure they give you years of excellent service.
Keeping Your Implant Clean
Although special care is not required to maintain the health of your implant, there are steps you can take to make sure it stays healthy. Brushing your teeth with an appropriate toothbrush is important. Many dentists now recommend electric toothbrushes because they clean the teeth and gums much better than manual brushes. Studies show that people who use electric brushes have better oral health. Gums are healthier, teeth have less decay and those individuals also keep their teeth longer.
Dental implants are similar to natural teeth in that food debris and bacteria can be trapped around them. Adequately brushing and flossing will keep the area clean. Using an electric toothbrush may provide additional protection by cleaning better than you can with a regular toothbrush.
Prevent Plaque Accumulation
Flossing helps keep the gums free from food particles and prevents the buildup of plaque. If plaque is allowed to accumulate around the implant, gum disease could develop and affect the stability of the implant, causing it to fail.
Another cause of plaque accumulation has to do with sugar intake. Harmful bacteria feed on sugar and the proliferation of these bacteria can lead to gum disease, which is one of the most common reasons for implant failure. Limiting your intake of sugary foods and beverages, along with good oral hygiene practices, will help avoid this problem.
Keeping up with your regular dental checkups and professional dental cleanings is also important in helping prolong the life of your dental implant. Ora Dental Implant Studio provides excellent dental care. Contact us when you have missing teeth to be replaced. Our dentists are experts in dental implant placement. Schedule your appointment for a consultation today.
Posted on behalf of Ora Dental Implant Studio
2733 Elk Grove Blvd, Suite 170
Elk Grove, CA 95758
Phone: (916) 546-7911