Cost of Full Mouth Dental Implants Near Orland, CA
Bring back your smile with dental implants. If you want new teeth without the hassle of adhesives or slipping dentures, dental implants are right for you. At Ora Dental Implant Studio, we offer the latest options in dental implants, from single tooth restorations to bridges and dentures supported by dental implants. If you are interested in the cost of full mouth dental implants near Orland, CA, contact our team to schedule an informative consultation at our clinic.
Dental implants are secured by placing them in the jawbone surgically. Most implants look like small screws and are made from titanium, designed to adhere to the bone as the surgical site heals and lasts for decades with proper maintenance. A variety of dental restorations can be attached to implants once they are in place. A dental crown can be bonded to the abutment on top of the implant to create a new tooth. This can be completed for all missing teeth, even a full mouth reconstruction. Another option is using four or more implants to secure a full mouth restoration like dentures. Options like All-on-4 denture implants or implant overdentures can be a less expensive option for full mouth dental implants.
Book an Appointment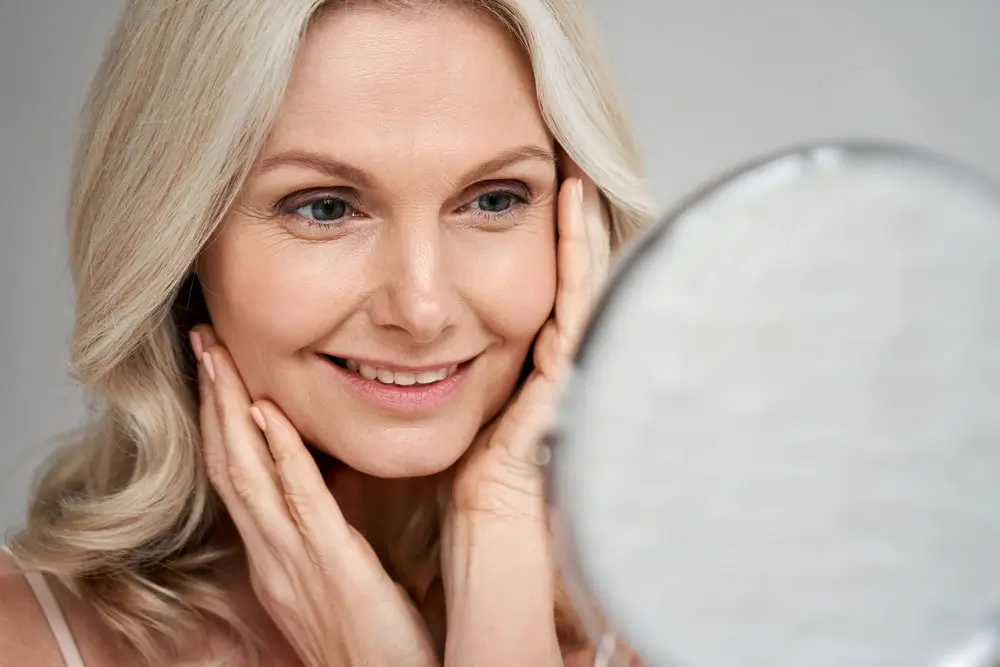 All-on-4 Denture Implants
It is no longer necessary to have enough jawbone density to support 10 or more dental implants for restoring a smile. All-on-4 denture implants changed how implants were used for full mouth restorations. Using strategically-placed dental implants that are inserted using an advanced method, as few as four implants can support a full set of hybrid dentures. This procedure can be completed in one surgery, and patients with some bone loss can still qualify for this implant restoration option. At Ora Dental Implant Studio, we offer both All-on-4 and All-on-6 denture implants at our clinic near Orland, CA.
Teeth in a Day
There was a time when implant-secured dentures could not be placed until the implants had completely healed. The implants can take a few months to adhere to the bone, leaving patients without their new teeth. With Teeth in a Day implant options, new teeth can be placed the same day as the implants. All-on-4 denture implant patients can receive their provisional dentures the same day. Once their implants heal, the permanent dentures will be secured. Not all procedures or patients can be completed in one day, but it is an option we offer at Ora Dental Implant Studio.
Book an Appointment
PROCEDURE

Ora Dental Implant Studio

National Average in USD

Surgical Placement of Implant
$1899
$1500-$2200
Stock-Abutment
$0
$500-$700
Crown
$0
$1200-$1500
Complete Dental Implant
$1899
$3200-$4400
Other Procedures Comparison:
Simple Extraction
$99
$149-$199
Surgical Extraction
$285
$299-$399
Simple Bone graft up to 0.5cc per site
$499
$599-$799
Membrane
$299
$349
Custom CAD-CAM Abutment
$699
These fees are for non insurance & cash patients only.
If you have dental insurance are subject to dental insurance fees guidelines
State-of-the-Art Implant Technology
Implant dentistry relies on precision for reducing surgical risks and creating perfectly aligned implants. At Ora Dental Implant Studio, we have invested in top-of-the-line dental technology and imaging to ensure we can prepare and perform every implant procedure to the highest level. Dr. Dalla performs full facial scans to achieve the best cosmetic and functional outcomes for patients. Our office uses CT scans, 3D scans and computerized surgical planning to accurately place each implant.
Our implant center completes all preparation and post-op care at our facility. We do all imaging and surgical preparation at the clinic, as well as 3D teeth printing and the surgery itself. Our patients can rest assured they will be comfortable during the procedure. We offer IV sedation for relaxation while Dr. Dalla performs the implant placement.
Affordable Teeth Implants
Most people agree that dental implants are the most desirable option for replacing teeth. However, most dental insurance plans do not completely cover implants or may not cover the cost at all. The good news is that Ora Dental Implant Studio offers competitive pricing, and we have affordable payment and financing options available at our center near Orland, CA.
Are you ready to learn more about dental implants and whether they are right for you? Contact us at Ora Dental Implant Studio to schedule your appointment, and learn about the cost of full mouth dental implants near Orland, CA.
Book an Appointment
See our special offers and find the ones that best suit your needs