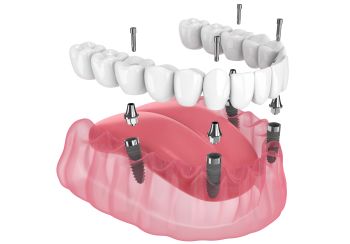 What You Need to Know About ALL-ON 4 Dental Implants in Modesto, CA
If you're considering getting dental implants but don't want the hassle of multiple separate appointments, then ALL-ON 4 dental implants may be the perfect choice for you. This type of procedure is becoming increasingly popular among patients in Modesto due to its convenience and efficacy. Let's take a look at what you need to know about these revolutionary implants.
What are ALL-ON 4 Dental Implants?
ALL ON 4 dental implants are a type of implant that is designed to replace all of your existing teeth with one single appointment. The implant system consists of four titanium posts that are surgically inserted into your jawbone, which act as anchors for the new prosthetic teeth. These posts provide an incredibly strong foundation for the replacement teeth, making them almost indistinguishable from real teeth.
Benefits of ALL ON 4 Dental Implants
The biggest benefit of this type of implant is its convenience—you can get a full set of replacement teeth in one single appointment! Additionally, they provide superior stability compared to traditional dentures or bridges due to their anchoring mechanism. This means that they won't slip or feel uncomfortable when eating or speaking. Finally, they look and feel just like natural teeth so you can rest assured that your smile will look great after the procedure.
All in all, ALL-ON 4 dental implants offer a unique opportunity for those who want a full set of replacement teeth without having to go through multiple appointments or procedures. It is important to remember that every patient's situation is different. With proper care and maintenance, however, ALL ON 4 dental implants can provide years' worth of beautiful smiles!
We at ORA Dental Implant Studio provides latest advancements in Dental Implant procedures, with our unique ORA4X process we digitally clone the patients face with 3D Facial Scanners & with our in house advance lab techs support we are able to provide Same day teeth for patients right after surgery. Dr. Dalla has successfully completed thousands of Full Mouth reconstructions surgeries & changes so many lives.
Posted on behalf of Ora Dental Implant Studio
2733 Elk Grove Blvd, Suite 170
Elk Grove, CA 95758
Phone: (916) 546-7911