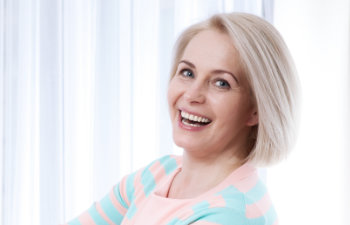 When you lose a number of teeth it may feel like the end of the world. Not being able to smile with confidence can damage your confidence. It is also difficult to speak and chew food comfortably. There are several solutions for restoring your smile. All-on-6 Implants are a game-changer for many of our patients at Ora Dental Implant Studio.
The three main issues you will face with missing teeth are appearance, function and oral health. The aesthetic of your smile can suffer due to visible spaces. You may have trouble chewing certain foods. Bacterial infection, plaque and tartar are problems that are often exacerbated by missing teeth.
Dental appliances that you can remove may provide a viable answer to your problems. However, changes in the shape of the mouth can cause these devices to become loose or ill-fitting. Comfort and stability is compromised, resulting in issues with speaking and eating. Adhesives are an option, but you may need a more permanent solution.
All-on-6 Implants
When you opt for All-on-6 Implants, stability is one of the greatest benefits. Chewing sticky foods can cause dentures to loosen. You may feel uncomfortable eating in the company of friends and family as a result. You won't need to use adhesive pastes, as the application is supported by implants.
The jaw is stimulated by the function of natural teeth and gums. All-on-6 Implants replicate this process and promote healthy bones. Missing teeth can lead to the jawbone and soft tissues shrinking. As an oral health solution, All-on-6 Implants can prevent this regression from occurring.
If you want to smile with confidence, All-on-6 Implants are recommended for replacing missing teeth. Proper maintenance and oral healthcare can result in implants lasting up to 40 years. You may qualify as a good candidate for this treatment at Ora Dental Implant Studio in Elk Grove, CA. By attending a consultation at our offices, you can discover lasting solutions for restoring the natural appearance and functionality of your teeth.
Call Ora Dental Implant Studio today if you would like to learn more about All-on-6 Implants. Once we confirm you are a good candidate, we can create your treatment schedule right away.
Posted on behalf of Ora Dental Implant Studio
2733 Elk Grove Blvd, Suite 170
Elk Grove, CA 95758
Phone: (916) 546-7911