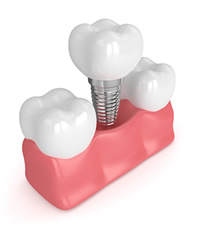 There is more than one way to replace missing teeth. While traditional bridges and dentures work for some, they are not always ideal for long-term teeth replacement. Bridges and dentures can do the job of replacing the tooth, but they fail to replace the missing tooth root. Only a dental implant can do both. Implant dentistry can require more upfront time and cost than other methods of restorative dentistry. However, the process brings unrivaled benefits in terms of health and quality of life.
To appreciate implant dentistry, it is important to know the different parts of a dental implant. This gives you an idea of what the process will entail and helps you understand how implants can provide such excellent stability and prevent bone loss. In general, implants can be broken down into three basic parts:
Implant Fixture: The fixture is the screw-like post that acts as your artificial tooth root. It is surgically placed into your jaw bone so that your prosthetic tooth or teeth on top will have a firm and permanent foundation.
Implant Abutment: The abutment is a small attachment piece that sits on top of the gum line. It connects the implanted fixture to your new crown, bridge or denture.
Implant Restoration: The implant restoration is the visible part of your dental implant. Depending on the number of teeth you are replacing, your implant restoration may be a custom crown, bridge or denture. Each of these types of prosthetic teeth can be custom fabricated in a dental lab and secured to one or more implants. This allows your new set of teeth to not only look like real teeth but function and feel natural too.
Learn Your Candidacy for Dental Implants
Are you looking to replace your missing teeth with the best solution in modern dentistry? Schedule a consultation with Ora Dental Implant Studio. We can evaluate your candidacy for implants, which typically means making sure you are in good overall health and confirming you have enough existing bone structure to support an implant.
Posted on behalf of Ora Dental Implant Studio
2733 Elk Grove Blvd, Suite 170
Elk Grove, CA 95758
Phone: (916) 546-7911