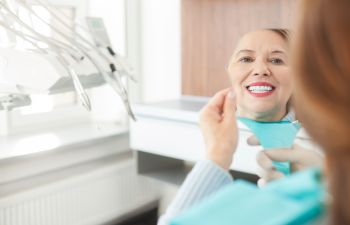 At Ora Dental Implant Studio, we offer various denture implant options, including Snap-on, all-on-4 and all-on-6. All of them are fastened or fixed-in-place devices that mimic natural teeth, restoring your smile and making it more comfortable to eat. All of them also improve your appearance because the implants stop your jawbone from shrinking and weakening your facial structure. So, what's the difference?
Snap-On Dentures Are More Affordable
Snap-on dentures are a level up from traditional dentures that rest on gums and require adhesives to stay in place. Snap-on dentures, also known as overdentures, are an improvement because they are supported by dental implants placed in the jawbone. They are attached by snaps that anchor the device to the implants in your mouth. As such, they are more secure and will not move or fall out when you talk or chew.
Snap-on dentures are cost-effective, easy to maintain and allow you to enjoy your favorite foods again without worry. Also, we can attach them with as few as two implants, although four implants are generally used for an entire row of teeth. However, because they are removable, you will have to take them out every day before sleeping for cleaning.
All-On-4 and All-On-6 Are More Secure
All-On-4 and All-On-6 dentures are permanently fixed in place dentures. They are more expensive because they require more implants and an attachment bar to screw them in place. However, they more closely resemble the feel of chewing with natural teeth and you do not have to be concerned with them snapping out of place when you eat. These two options stay in your mouth permanently and must be cleaned like natural teeth.
Whichever one of the three options you choose, you will be able to eat, talk and smile confidently again. Dental implants have revolutionized restoration dentistry options, and these three solutions are among the most popular choices for functionality and affordability. So, schedule your appointment today and let the highly trained dental professionals at Ora Dental Implant Studio help you attain the pleasure of a great set of teeth.
Posted on behalf of Ora Dental Implant Studio
2733 Elk Grove Blvd, Suite 170
Elk Grove, CA 95758
Phone: (916) 546-7911