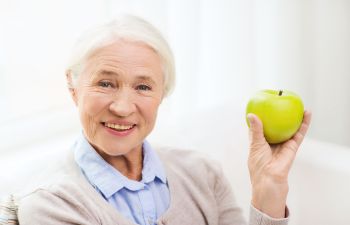 Loss of teeth can prevent you from eating certain foods that actually have high nutritional value. This, in turn, can affect your overall health, because your body may not be getting the nutrients it needs to function at its best. Replacing missing teeth can be done by getting a dental bridge, dentures or dental implants. Many dentists encourage dental implants due to their aesthetic superiority, durability and the fact that implants help your bone remain healthy and intact.
The Function of a Natural Tooth
Dental implants are very beneficial in that they are firmly rooted within the jawbone, much the same as the natural tooth. Because of the osseointegration with the jawbone, the implant is stable and secure, making this the best choice for replacing missing teeth.
When one tooth is missing, an implant provides a natural-looking replacement without affecting the neighboring teeth. A dental bridge requires modifications for the adjacent teeth. A crown is put on both teeth with the artificial tooth attached and bridged between them. A partial denture is a removable device that, while adequate for replacing the missing tooth, has a number of disadvantages, unlike a dental implant.
Your Diet After the Implant Procedure
The site of the implant will need time to heal. Directly after the procedure, you will need to eat soft foods to help the healing process. Sticky and/or hard-to-chew foods should be avoided. Once the implant site is fully healed, you will be able to enjoy all your favorite foods again.
Choosing healthy foods is important. Not only will healthy choices during the healing process help you recover faster, eating healthy after you are fully recovered from the procedure will help you maintain your oral health and general well-being.
With dental implants, you will be able to bite and chew as well as you did when you had all your natural teeth. If you have implant supported dentures, you no longer need to worry about the discomfort of getting food debris caught underneath them, or the embarrassment of them becoming dislodged.
Along with maintaining a healthy diet, it is also important for you to remember to brush and floss to keep your teeth, gums and your dental implants healthy. Regular dental checkups will ensure you are doing all you can to maintain your best oral health.
Ora Dental Implant Studio will help you achieve your best look with our state-of-the-art dental implant procedure. We also help you preserve your best oral health with thorough dental examinations. Call today to schedule a visit with us.
Posted on behalf of Ora Dental Implant Studio
2733 Elk Grove Blvd, Suite 170
Elk Grove, CA 95758
Phone: (916) 546-7911